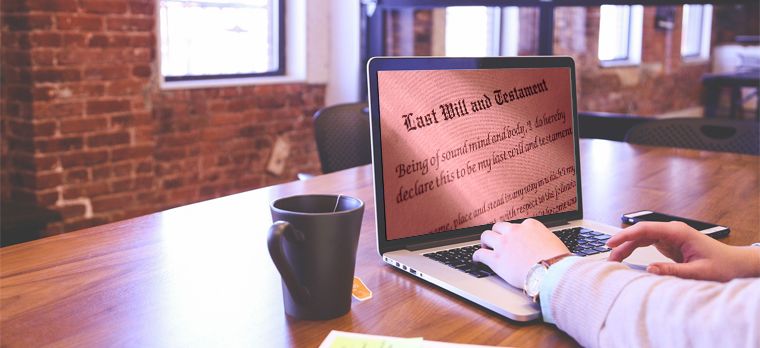 Prepare your will through the Internet indicating your assets and properties and designating, at the same time, who will inherit all of them.
Now you have the possibility to prepare your will in advance and at ease, and through the Internet. Describe each of your assets, personal belongings and properties and choose the people or entities that will inherit them after your death. Print your will in PDF format and go to your notary to validate it.
Create your will online with a high level of detail listing all your properties and designated who will inherit them. Make it totally FREE on our platform.
Choose freely who will inherit your assets and property after your death. They can be the people, entities or organizations that you decide.
Describe all your properties, goods and personal objects that will be transmitted to your heirs, defining in each case what percentage each will receive.
Leave precise indications on other important aspects, such as who will take care of your minor children or your pets, or who will be your executors or substitutes.
Once completed, request the revision of your will so that an expert lawyer from our team will review your case and advise you and guide you for free.
Print your will online in PDF format and go to the notary with everything prepared to give it the necessary legal validity established by the testamentary regulations.
How to create your Online Will?
Creating and processing your will online is very easy. You just have to register on our platform and fill in the necessary information and data that will form your will.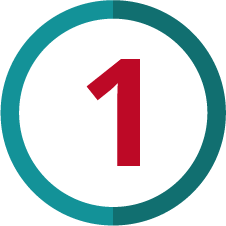 Create your account with the free plan to use the Online Will service and have it available for life, although we recommend hiring a payment plan for a better experience.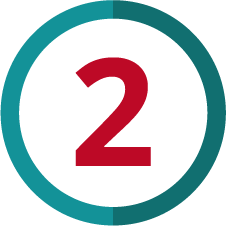 Login to our platform and access the "Online Will" section. Set up and fill in the necessary information that you will find there according to your preferences.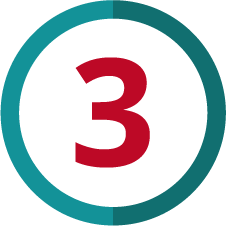 Ask for the review with one of our experts and after its approval, print your will and go to the notary. If you do not have a trustworthy one, we will find you the one closest to your location.
What is the Online Will for?
Making a will is an important decision in each person's life. It is a process that requires time and measure to distribute the physical assets and leave additional instructions on other important matters that affect loved ones. Through the online will we offer you a simple tool, easy to use and available 24 hours a day so that from the tranquility of your home you can make your will as you see fit.
You will receive advice through one of our expert attorneys in testamentary matters who will review the will you have filled out and guide you so that it complies with your wishes and is also in accordance with the Law according to the autonomous community in which you reside.
The Online Will service is free for life. Create and modify your will as many times as you need throughout your life. You only have to pay each signature to the notary.
What does the Online Will resolve?
You will save time by making your will. With our online will service everything is simpler and more agile, since at the time of completing it you will have interactive help and technical support at all times that will attend to you and resolve all doubts.
You will save costs, because the entire process is done over the Internet. You just need to sit in the comfort of your home and start filling out your will. No calls, no messages, no paperwork, no paperwork, no travel.
You will avoid going to the notary several times and spending several hours there describing all your assets, listing your heirs and communicating your wills. By printing your online will in PDF you will arrive at the notary with the job done. You can even send it in advance by email to the notary so that he can prepare what is necessary and thus only go to the signature.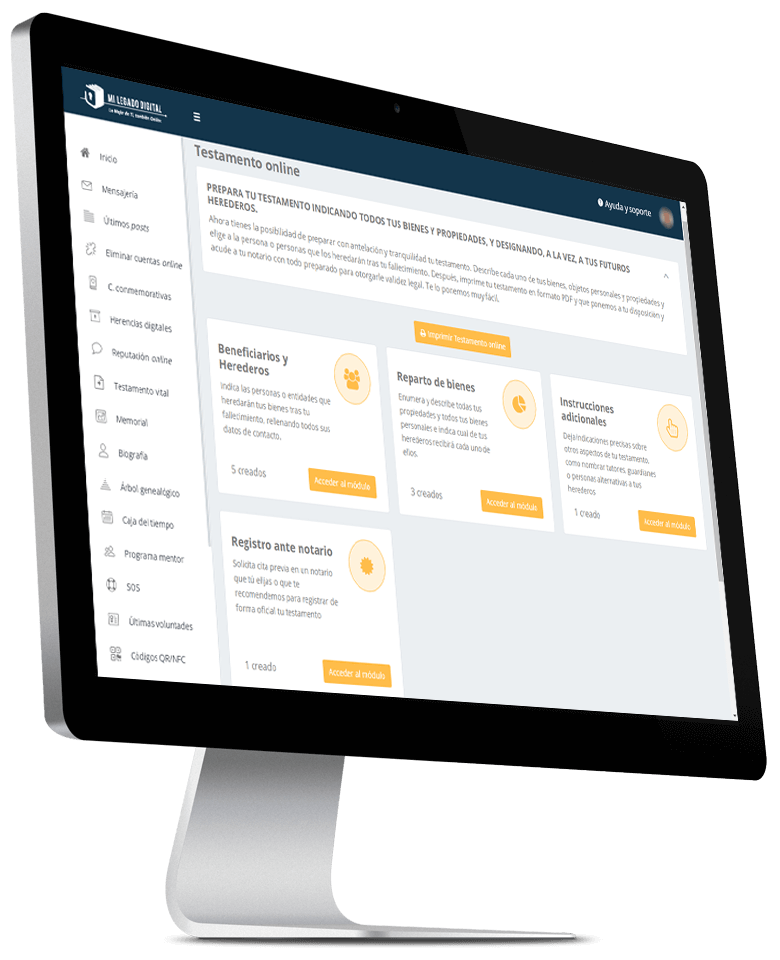 How does the Online Will work?
Now, with My Digital Legacy, creating your will is very easy and simple. You just have to register on our online platform and follow the instructions to correctly fill out the forms that make up your online will.
Define who will be the heirs and beneficiaries of your assets. They can be people or entities (school, university, association, NGO, etc.). You will have to fill in all the identification and contact details of the person you designate so that, when the time comes, they can be contacted.
Describe each and every one of your personal property and objects: real estate, money, finances, companies, businesses, vehicles, furniture, jewelery, works of art, collections, personal objects, etc. You can add more than one heir to each asset by defining the percentage that each will receive. And if you do not have a large estate and there are not many heirs, you can use the option of bequeathing "all my estate" for greater ease.
Reflect in your will precise indications on other important matters: designate all your executors and if they acted independently or jointly; appoint the legal guardian of your minor or disabled children; or designate the guardian of your pets. You can even inherit a gift as a reward for their work.
You can always request that an expert inheritance and succession lawyer from our team review your will to advise you and guide you in any aspect of it. If you must modify it, it will tell you how to do it in the best way to complete it according to Law. And it will be totally free.
Finally, you will be able to print your will in PDF format with all the distribution of assets, your precise indications and all the legal clauses necessary to give it legal validity. You can print it on paper in your own home or workplace or even save it in the cloud, on a pen drive and even send it by email to the notary to prepare the signature.
Remember that signing before a notary is necessary to grant legal validity to the will. The notary may use the same paper generated in our tool or a different one, but in any case, the content of the same will be the one you have completed. The goods or properties that you do not include in your online will will be distributed according to Law without taking into account your will. At the end of your will, a couple of clauses will be included indicating everything related to your digital will and the distribution of your digital assets.
Make your Online Will for FREE!
Do not wait any longer and start filling out your will right away. Now you have the opportunity to organize the inheritance you want to leave from the tranquility of your home.
My husband left us three years ago. Now I see everything very clearly and after retiring I have decided to make my will. Without a doubt, making the will online gives me the peace of mind and time to do it right.
The online will of My Digital Legacy is a powerful and very effective tool. The truth is that it is very useful for standard type wills, which are the most common in Spain. I recommend its use.
Having the possibility of making the will in such a comfortable and easy way is a success. I have already used it and I have to say that everything is very well explained. Finally a testament service that is understood.
Making a will is not very profitable for a notary: you spend a lot of time for a few fees. But with the online will the clients come with the work almost or half done. It is great.
You can also make your Online Will